1. 'Republicanize Me'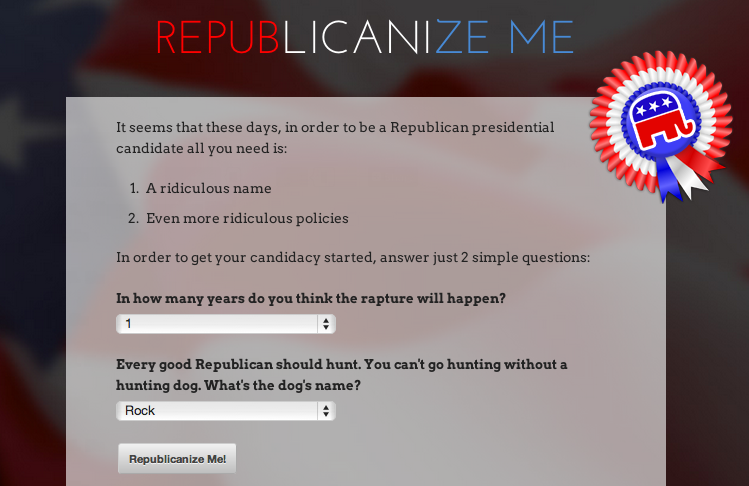 For those not in the know, today is Super Tuesday in America – the day when ten US States shape the destiny of the Republican candidates contesting the nomination to challenge Barack Obama's presidency.
If you wanted to get in on the action, why not head over to Republicanize Me and get the ball rolling on your own candidacy? We did – and now rate Frick Judges as an outside bet.
2. Taking business advice from Warren Buffet

Berkshire Hathaway's Warren Buffet recently published his annual shareholder letter. PandoDaily have summarised the letter into four worthwhile take-home points. Well worth a read!
3. Animal Planet gets creative
"Animal Planet is all about animals, wild and domestic," says Federico Gaggio, VP, executive creative director, Discovery Networks UK & Western Europe. "The channel's primary audience are adults, in particular adult women, who have a passion for animals. At times they watch with their kids or as a family. To reconnect them with our programmes we created small worlds (Animal Planets), where iconic animals display their natural charm and quirky behaviour, which makes them endearing to us. The logo is integrated in the environment where the animal action takes place."
We recently spotted these two new idents for Discovery Planet's Animal Planet over on Creative Review. Lovely stuff, nice work Double G Studios and Blue Zoo!
4. "Why I tearfully deleted my Pinterest boards"

We're big fans of 'self-expression engine' Pinterest, but when we read lawyer/ photographer/ avid Pinterest user Kirsten Kowalski's article we were more than a little shocked. It's a long but ultimately extremely important read on the copyright nightmare Pinterest's users are volunteering for by simply using the service.
5. There's always an 'Easy Way Out'
A truly amazing piece of stop-motion animation from Belgium/ Australia's Gotye (that took 9 months to make). The song's not too bad either!