1. SoundCloud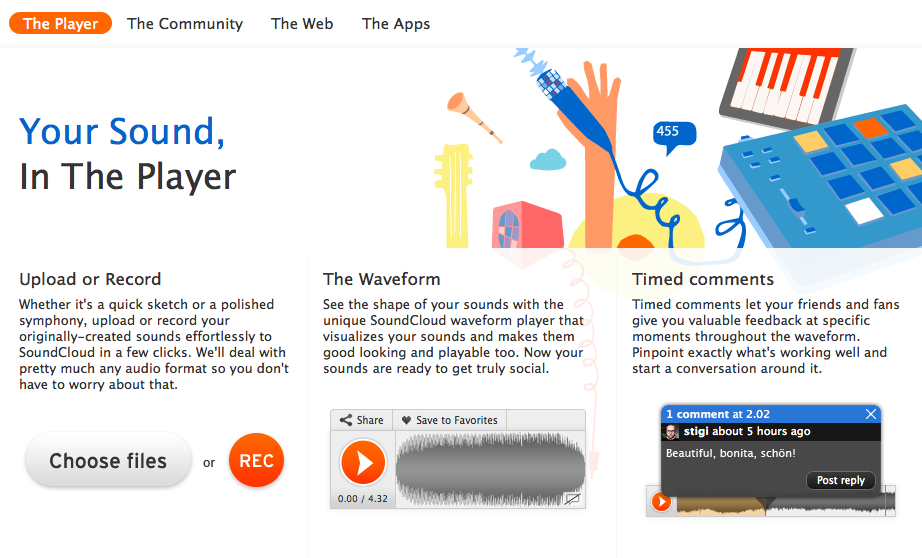 If you wanted to share music online prior to 2007, the internet was a pretty poor platform for doing so – or so thought two entrepreneurial Swedes, Alex Ljung and Eric Wahlforss. They set out to solve the problem with SoundCloud, an audio distribution platform.
Launched in Stockholm and now based in Berlin, London and San Francisco, SoundCloud users are given a certain amount of allocated 'upload minutes'. The entry-level free account allows for 2 hours of time, with paid accounts getting more depending on which subscription plan you go for. Paid users are also given access to track statistics that track who listens to or shares their content.
Uploaded audio is given a distinct URL, displayed in an engaging waveform and can be embedded on third party websites via a selection of branded widgets or smartphone apps. Users can also share feedback via timed (on specific parts of each waveform) or non-timed comments.
To date, SoundCloud has over 5 million registered users, with around 2.4m people visiting the site each month and 2m monthly users linked to the Facebook app. The company has also raised €12.5m in funding from a variety of investors including Ashton Kutcher's A-Grade Fund. SoundCloud is a fantastic platform for distributing and promoting audio content and, judging by the speed at which they were welcoming new users this year, we'll be hearing a lot more from the team in 2012!